It seems there is a DLC for Medal of Honor. They are charging $9.99 (might as well say $10.00). I find it pretty funny how those who bought it paid $60.00 (USA) just 3 weeks ago and now they want them to pay another $10.00 for a simple expansion pack!!!
FUCK YOU EA!!!!!

I'm so glad I did not buy this game!! It's companies like EA that are killing online gaming. Charging an insane amount of money during these bad economic times. You might as well stick the knife in me now and kill me. Just go PAY to PLAY and get it over already. EA YOU SUCK!!!!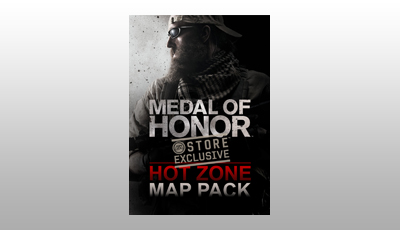 Requires Medal of Honor to play.

Hot Zone Map Pack

Download the completely new mode, Hot Zone which includes 2 brand new maps, Hindukush Pass and Korengal Outpost, as well as 2 redesigned original maps. Hotzone is as intense as it gets with coordinated all-out annihilation followed by strategic dug-in defense. Your mission is simple, control the area.

Multiplayer Shortcut Pack

Unlock all the weapons and modifications available in the Medal of Honor™ multiplayer modes. Get a Tier 1 arsenal from the start!
There is also additional free content to be released same day. (But I don't give a flying fuck.)
http://www.medalofhonor.com/blog/2010/10/hot-zone-coming
EA today announced that the hit first-person shooter Medal of Honor will further expand its intense multiplayer experience with the release of an all-new multiplayer mode on November 2, 2010. The new mode called Hot Zone features "King of the Hill" gameplay where teams fight over a designated location on a map; the team who holds their position longest prevails. This adrenaline-fueled mode is playable across two all-new maps (Hindukush Pass and Korengal Outpost) as well as redesigned versions of the popular Shahikot Valley and Helmand Valley multiplayer maps. Hot Zone will be available via Xbox LIVE Marketplace for 800 MS points, on PlayStation Network for $9.99USD and on PC exclusively via the EA Store for $9.99USD.

In addition to Hot Zone, EA will also release Clean Sweep on Nov 2 via Xbox LIVE, PSN and PC for free. Clean Sweep is an elimination mode where players will rely on their own skill and teammates' expertise to prove victorious. This free mode will also feature two all-new maps (Bagram Hangar and Khyber Caves) as well as redesigned versions of the popular Diwagal Camp and Kabul City Ruins maps.
_________________
Admin




Number of posts

: 3033


Age

: 51


Location

: Planet Zero


Registration date :

2008-05-28



and the game is shit... MP speaking , the SP was quite entertaining but that didn´t cost a dime , and that´s where i clearly stated:

FUCK YOU EA



Number of posts

: 2796


Age

: 41


Location

: Portugal/where i can when i can


Registration date :

2008-10-18



EA FUCKUP YOUR GAME





Number of posts

: 403


Age

: 51


Location

: Netherlands


Registration date :

2008-10-18



true that, thats why im not buying black ops either matter of fact, they are going to charge for maps as well like MW2, but Medal of Honor i paid $60 fucking dollars, and if i dont buy the DLC and i cant play it? if the game was any good, this is a major let down, and it deserves to be shoved up EA ass, same as Activision greedy little bastards, kinda pisses me off, my fucking money could been to better use such as fuel for my truck, FUCK EA, not buying anymore games from anyone unless i know for sure its good, this is bullshit!



Number of posts

: 685


Age

: 28


Location

: Youngstown Ohio, USA


Registration date :

2009-06-07



---
Permissions in this forum:
You
cannot
reply to topics in this forum